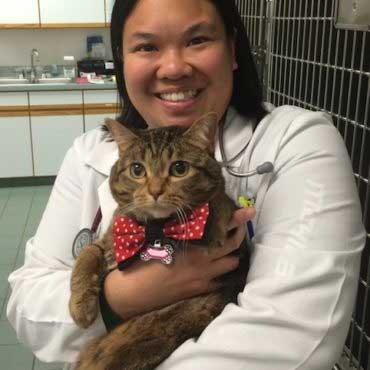 Dear Family and Friends of HVH:
First and foremost, thank you for your consideration to patronize our practice. We are a privately owned, small business in Rochester Hills, Michigan. I grew up in neighboring Troy and have been practicing veterinary medicine in Rochester since I graduated in 2006. I was one of those kids who knew I wanted to be a veterinarian at a very young age. After working as a 'sanitation engineer' at a neighborhood veterinary hospital, I attended Michigan State University, Ross University School of Veterinary Medicine and The Ohio State University College of Veterinary Medicine.
As stated in the name, 'Hometown' means everything to me. This community has raised and supported me and continues to do the same for my family. Educating and giving back to the community is what I have always strived to do. On behalf of Nationwide, I have had the great opportunity to teach communication, business and professional management at almost every veterinary school in the United States for the past 13 years. On the local level, it is my pleasure to provide guidance and resources for young adults considering a career in veterinary medicine. It is our duty as community figures to provide experiences to our youth in order to assist them in finding their passions.
We are a passionate bunch and we love your pets just as much as you do. The team at Hometown Veterinary Hospital looks forward to continuing to provide personalized, sincere and compassionate medical and surgical care for your pets. Without judgement, our team will make every attempt to advocate for your pet and provide you with the knowledge necessary to make sound decisions. Thank you and see you soon!
Kristina A. Yee, DVM
Owner